About me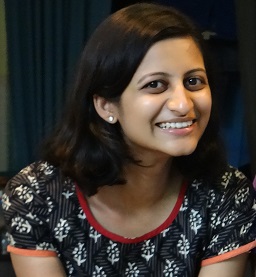 I am Class of 2017 Computer Science Graduate Student from Northeastern University actively seeking a Full-time Developer Opportunity.
I am enthusiastic about Mobile Application Development using Android as well as Full Stack Software and Web Application Development using MEAN Stack and Java.
I love traveling, music, watching sitcoms, photography, am adventurous by nature, a fast-learner, amicable and adaptive.
Independent Projects
Weather Map Web App

APIs used: Dark Sky Weather Forecast API and Google Maps JavaScript API

Tech Stack: AngularJS, NodeJS, Express, Angular-nvD3, JQuery, Moment, BootStrap

IDE: IntelliJ WebStorm

Hosted on Heroku
Timeline
October 2017 - Present

Mobile Software Engineer, BioSensics, LLC.

August 2017 - September 2017

Web App Developer Volunteer, Health Innovators

January 2017 - May 2017

Spring 2017, Graduated as Master of Science in Computer Science

Courses:


Managing Software Development
Software Vulnerabilities and Security
Master's Project

July 2016 - December 2016

Mobile App Developer Co-op, MassMutual Financial Services

May 2016 - June 2016

Summer-1 2016

Courses:


Web Application Development

January 2016 - May 2016

Spring 2016

Courses:


Algorithms
Mobile Application Development

January 2016 - May 2016

Fall 2015

Courses:


Program Design and Paradigms
Artificial Intelligence

January 2013 - July 2015

Systems Engineer, Tata Consultancy Services

May 2012 - December 2012

Web Developer, Freelancing

June 2008 - May 2012

Graduated as Bachelor of Engineering in Electronics and Communication

Courses:
Data Communication and Networking,
Microprocessors and Micro-controllers
Technical Skills Set
Languages
Web
Databases
Tools
Operating System